Parallax is the effect where the position or direction of an object appears to differ when viewed from different positions.  When an observer moves, the apparent relative motion of several stationary objects against a background gives hints about their relative distance which the brain can interpret to provide absolute depth information.
As you can imagine this can be very helpful to birds for flight and for judging prey position.  The movement required comes automatically during flight but it can also be provided while perched by exaggerated movements of the head in all three dimensions.  Tipping the head also provides cues by changing the relative position of the eyes to the object being viewed.
Learning to interpret this information takes practice so many juvenile birds do just that, owls in particular.
Techs for the following images – most were taken at 1/640 or 1/800, f/9, ISO 400, 500 f/4, 1.4 tc, natural light, not baited, set up or called in.  All images presented in the order they were taken. 
Several years ago I spent a lot of time over several weeks photographing a family of Burrowing Owls along the causeway to Antelope Island.  Their burrow was very close to the road and they became almost completely acclimated to traffic so I was able to observe and photograph many interesting behaviors of both juveniles and adults from my pickup.
Here, this juvenile is simply ignoring me (for the sake of convenience I'll refer to this bird as a male though I have no idea what sex it was).
But a few seconds later he decided that the clicking sounds coming from my pickup sounded interesting and decided to investigate using parallax.  He began by standing erect which moved his head to a higher position.
He then moved his head closer to me which provided additional visual depth cues to his brain.
Then he stood erect and started to tilt his head…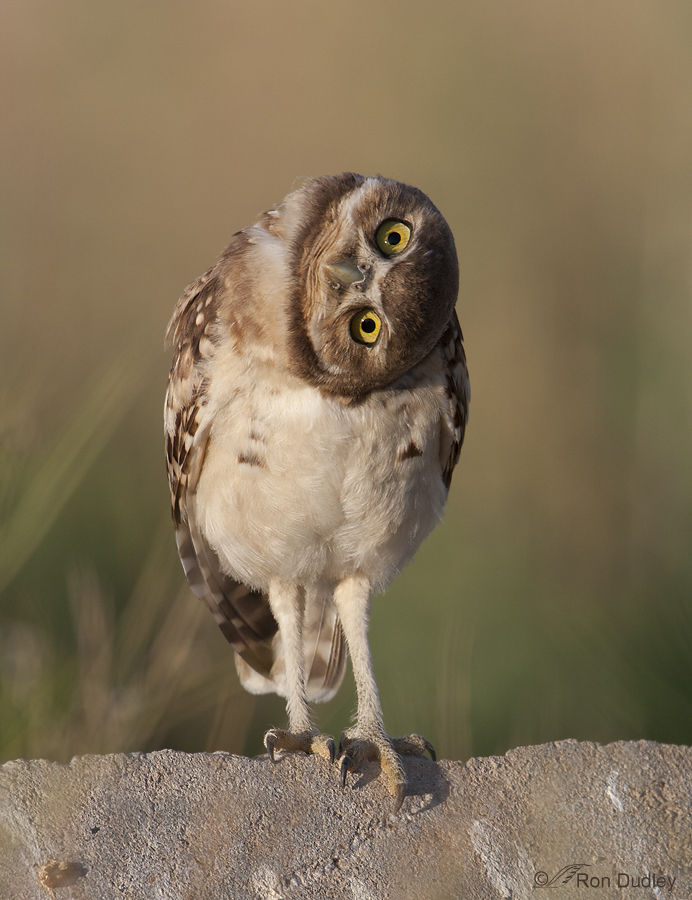 further…
and further.
Then he began to tilt his head in the other direction…
and went almost as far with it as he had previously.
Then he went the other direction again and continued to alternate for some time.  (I've posted this shot before and it also appears in my header images at the top of my blog).
I've seen parallax from a variety of birds but never such an extended session or from as close as this.  It was cute as can be and endearing to watch.
Ron